I love photos as much as the next person. I have an Instagram account and I adore perusing people's pictures of glorious meals, beautiful children and quaint seaside views. But hey? Life isn't always like that is it. Sometimes? Sometimes our kids look snotty, our meals look bloody horrible and the only view we have is our children fighting in front of Peppa Pig on the TV. So hey presto! I have created the 'Wicked Wednesdays' linky.
Each week I would like you to link up the most realistic or funny or just daft photo you took of every day family life. Could be your child weeping over a dropped ice cream. Or an hilarious family selfie where not one single one of you is looking at the camera or the huge pile of washing you are never going to get finished. Anything. In fact? The funnier the better! Something to make us all smile and we can be joined in the sometimes doomed 'magic' moments of being parents.
Linky Rules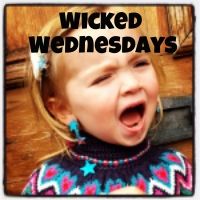 Firstly. Please add my special badge of my daughter weeping when I said she looked like Pat Butcher.
The linky requires no words. We've not got the time really have we? But feel free to write a few lines if you wish. I think no words is sometimes even funnier. We can make our own stories up then!
It will run from Wednesday early morning till Friday late evening. But feel free to link up any old photos from other weeks. One per person.
I will comment on each one and if you include my twitter handle (follow me here) and #wickedwednesdays I will share your comedy picture.
Try and comment on as many as you can, let's say two would be a good minimum. But the more you comment on? The more will comment back. FACT.
If you also hashtag your piccy #wickedwednesday on Instagram (follow me here) I will regram a few favourites each week with your handle and hopefully you will get some new followers.
That's it! It's just a bit of a giggle really. Enjoy!
And behold! Some inspiration for you...